Welcome to The Nesselwang Bicyle Shop,Jons Adventures
Come with me on a tour, and I'll show you the beauties of our wonderful Allgäu, like you've never seen them before: from a saddle of a Trekking or Mountain bike, or with Nordic Walking poles in your hand. Every tour has a picnic or refreshment (Pub) stop.
Bike Adventure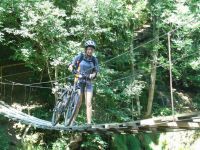 For your style and ability I have just the tour for you. I can help you understand your bike, and give you little tips that help you ride better. If you haven't got a bike here, no problem, you can hire one of mine.
GPS Adventure (SatNav)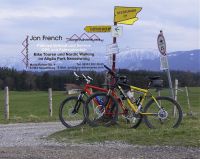 Discover the countryside with the newest technology. Thanks to 24 orbiting Satellites and a super Satnav from us, you too can find the best parts of the area. Without long studying of the map and guide book, after a short introduction from us, you can set off walking, or cycling, through our beautiful Allgäu countryside.
Öffnungszeiten Corona 21
From April Until Inzidenze 35
Mo 09:00-12:00
Di 09:00-12:00
Mi 09:00-12:00
Do 09:00-12:00
Fr 09:00-12:00
Sa 09:00-12:00
Öffnungszeiten
From April to October
Mo 09:00-12:30 and 14.00-18.00 o'clock
Tu 09:00-12:30 and 14.00-18.00 o'clock
We 09:00-12:30 Afternoon Closed
Th 09:00-12:30 and 14.00-18.00 o'clock
Fr 09:00-12:30 and 14.00-18.00 o'clock
Sa 09:00-12:30
Su. Bike hire with appointment between 09.00 and 10.00
Öffnungszeiten Oktober

Mo 10:00-12:00 und 14.00-17.00 Uhr
Di 10:00-12:00 und 14.00-17.00 Uhr
Mi 10:00-12:00 Nachmittag geschlossen
Do 10:00-12:00 und 14.00-17.00 Uhr
Fr 10:00-12:00 und 14.00-17.00 Uhr
Sa 09:30-12:00
From November until March and during the Whitsun Holidays By Appointment